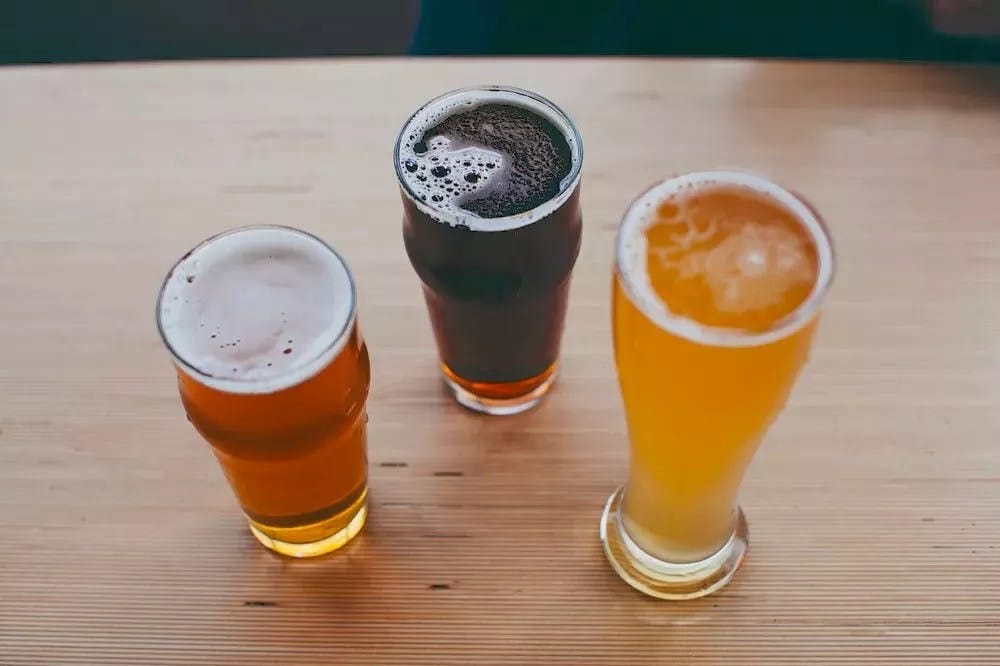 Brewed Beers
Volstead Kolsch 4.7%
This German style golden ale is crisp, clean and easy drinking. Bready Malt, and a subtle fruitiness in front with a floral, spicy Noble hop finish.

Hefeweizen 5.5%
Our classic unfiltered German wheat beer has flavors of banana, orange flesh, melon, lemon rind and a hint of clove spice under it all. Crisp, creamy and refreshing. Prost!

Green Dragon IPA 6.6%
Hazy Style. Monstrous amounts of aromatic Citra Hops are what this IPA is all about. Citrus flavors abound.

Local Love IPA 6%
Our Collaboration Brew with Oddfellows, Liquid Therapy & Talespinners. Hazy IPA using NH grown Grain & Hops from Maine & Vermont. Flavors of Orange and Lemon, with hints of Jasmine Tea, Bubblegum & Cotton Candy.

The Hoplar Effect DIPA 8%
Hazy Style. A juicy double IPA with aromas and flavors of tropical fruit, melon & soft citrus. Finishes smooth & creamy.

Revolution Red 4.6%
Fruity watermelon in the nose. Malt and fresh watermelon flavors with some citrus underneath. Finishes with more malt richness. Truly a flavorful revolution.

Reverent Beginnings 5.8%
A fond look back at some of the pioneer brews of Craft Beer. Strong malt and hop character pushed the definition of what beer could be. This is a mash up of early iconic craft beer. It is the first in a series of beers we are making to celebrate our 30th year of brewing!

Beyond The Stars 5.3%
This classic German style black lager has flavors of dark chocolate, toffee, toasted malt, bread crust and a whiff of herbal hops. Crisp, clean finish.