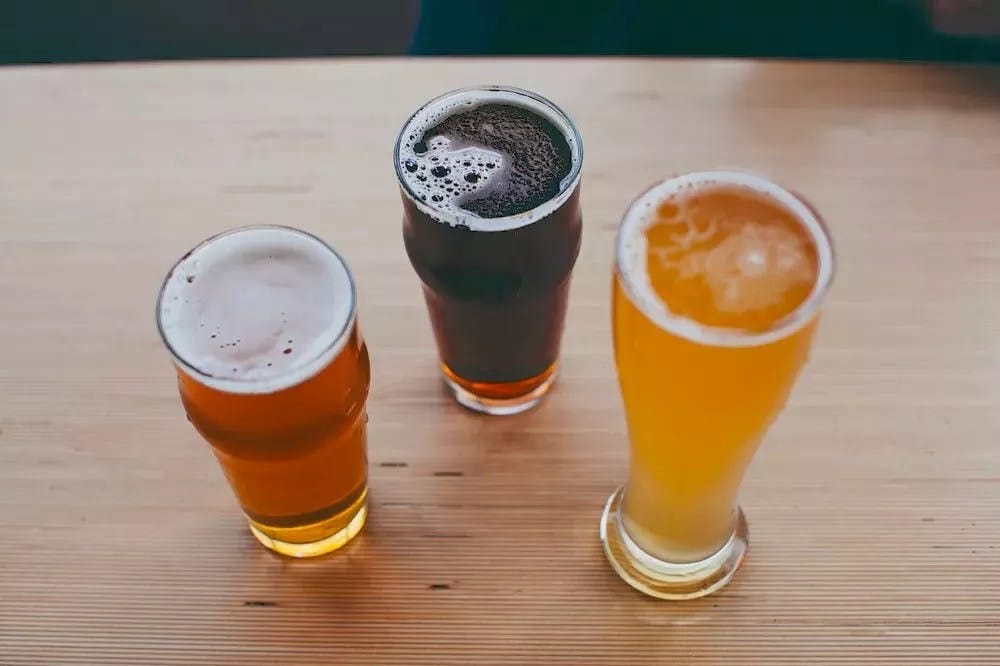 Brewed Beers
Belgian White 5.1%
Our classic unfiltered Belgian wheat beer infused with coriander and orange peel.
Pumpkinweizen 6%
Roasted pumpkin added to a creamy German wheat beer with just the right touch of cinnamon and nutmeg. Zum Wohl!
Oktoberfest Lager 6.3%
Our classic German lager, clean toasted malt shines out with a crisp noble hop finish. Prost!

Green Dragon IPA 6.6%
Hazy Style. Monstrous amounts of aromatic Citra Hops are what this IPA is all about. Citrus flavors abound.

Fresh Hop IPA 6.2%
Freshly picked hops from Milford NH private crops and 4 Star hop farm in Northfield MA were added to this IPA the day they were harvested. Tangerine and orange dominate with some floral and spicy notes. Frist Gold, Cascade and a wild mystery blend were used.
Calypso, Mandy & the Wolf IPA 6.3%
Orange, lemon and citrus zest dominate from, Calypso, Mandarina and Styrian Wolf hops. Juicy finish with a bit of sweetness.

25th ANNIVERSARY Barrel-aged BALTIC PORTER 9.5%
Black lager aged in Stark distillery bourbon barrels. Toasted oak, vanilla, dark chocolate. Bourbon warmth on the back end.

Smoked Porter 6.2%
Rich and full bodied. Roasted malt, baker's chocolate, and a whiff of sweet smoke from malt cured by cherrywood smoke. Luxurious.