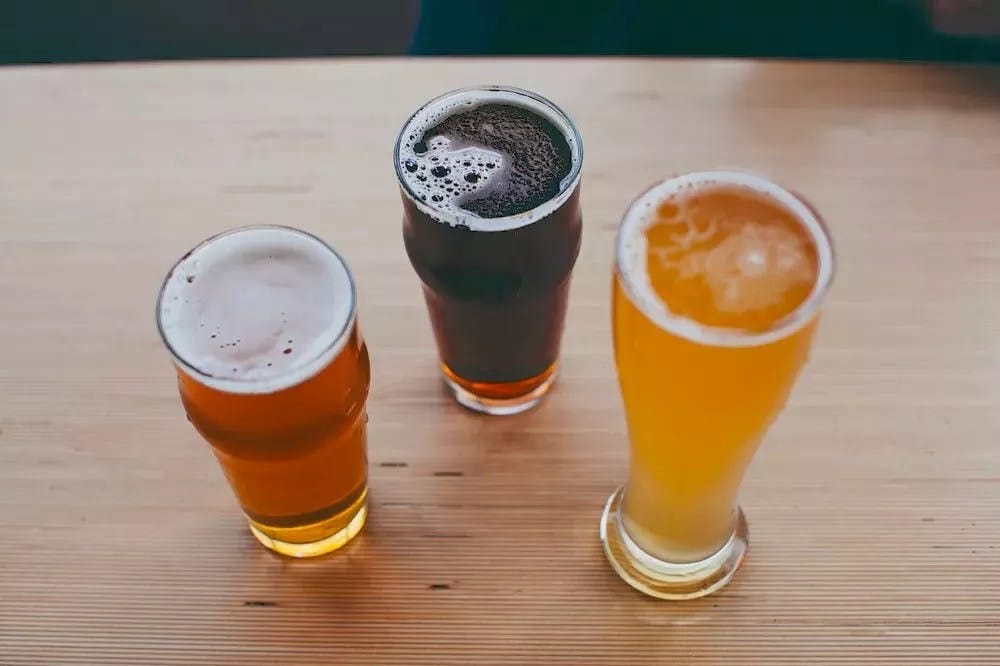 Brewed Beers
Zee Helles 5.4%
Classic German lager. Deep golden color, intense clean malt, crisp with a slight noble hop spiciness on the back end.
MacLEOD'S Scotch Ale 9.3%
A little glass of heaven. Immortal malt and smoky caramel, a warming dose of alcohol, smooth beyond smooth, eternally inviting. Cozy up to one.
Moreish Pub Ale 5.4%
This ale is what you might expect to find in many a local pub in England. Light citrus notes in the nose with a balanced maltiness in flavor. Finishes with more citrus and a touch of earthy hop on the back end. Have one and you'll want more. Cheers.
Panther Tracks IPA 6.4%
Old School style. Leafy hops, and a blend of citrus fruit and pine in the aroma. A nice bitter snap greets you, dry up front with some malt in the aftertaste. More leafy hops in the finish.

Fresh Hop IPA 6.2%
Freshly picked hops from Milford NH private crops and 4 Star hop farm in Northfield MA were added to this IPA the day they were harvested. Tangerine and orange dominate with some floral and spicy notes. Frist Gold, Cascade and a wild mystery blend were used.
Calypso, Mandy & the Wolf IPA 6.3%
Orange, lemon and citrus zest dominate from, Calypso, Mandarina and Styrian Wolf hops. Juicy finish with a bit of sweetness.

The BIG 3-0 11%
Over a year in the making. Dark fruit aromas in the nose follow in the flavor. Deep maltiness, toasted pumpernickel with boysenberry jam. More toast with honey and a touch of hop bitterness in the long finish. Very complex. More flavors emerge as it warms in the glass.
Smoked Porter 6.2%
Rich and full bodied. Roasted malt, baker's chocolate, and a whiff of sweet smoke from malt cured by cherrywood smoke. Luxurious.